This page is intended to provide individuals with general information pertaining to preventing fires.
Stop, drop, and roll! We all remember this from elementary school when the firefighters came to visit. Kids think it's a fun new game but it can save your life. It is just one form of fire prevention everyone should know. There are many other fire prevention tips you can follow in order to reduce the risk of fires starting in your home.
Smoke Alarms and Detectors: It is important to have smoke detectors installed on each floor of your home. Remember to check them regularly for proper function and change their battery at least once a year. Changing your smoke detector batteries when you change your clock is a good way to remember.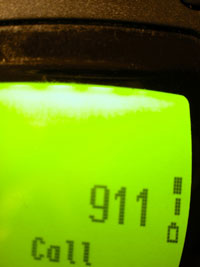 Emergency Numbers: While you should call emergency services if there is a fire in your house, do not call from your house. You will be wasting valuable time you can be using to save your life.
Have a plan: Make sure everyone in the family knows of two ways out of each room in the house. This is because if one exit route is blocked, you have a backup plan. Also, agree on a place to meet to do a "head count" once you evacuate the house.
Smokers: Never smoke while in bed or when you are sleepy. The ashes could easily start a fire while you are too drowsy to be fully alert.
Space Heaters: Any portable space heater should be kept at least 3 feet from anything that can burn (including the wall). Never leave a heater on when you are not home or when you are asleep. Children and pets should be kept away from them as well.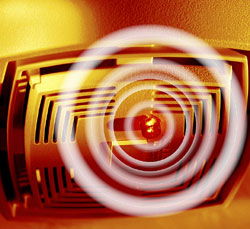 Cooking: Keep the cooking areas clear of combustibles. Make sure to keep all pot handles turned inward so they are not accidentally knocked over. Try to wear short sleeves or fitted clothes so your sleeves don't catch fire. In case a grease fire does occur, carefully and calmly slide a lid over the pot to smother the flames and turn off the burner.
Matches: it is very important to keep matches and lighters out of a child's reach. Also, do not keep any near your fireplace.
Fireplace: Before each new heating season, it is a good idea to have a chimney inspector clean your fireplace. Also, do not keep any matches, newspapers, or kindling near the fireplace and use a fireplace screen to prevent any sparks from flying out.
Clothes Dryer: Never leave your clothes dryer on when you are not home. Remember to frequently clean the lint trap to keep the airway clear.
Halogen Light Bulbs: Make sure to turn off or unplug the lamp and wait for the light bulb to cool down before attempting to change it. Read more about halogen light safety
If you follow these fire prevention tips, you and your home will be much safer.
Test your knowledge about fire prevention by following this link.