This page is intended to provide individuals with general information pertaining to recharging fire extinguishers.
All building and homeowners should know how to recharge fire extinguishers immediately after their use, and as part of a regular maintenance duty, in order to keep their dwelling safe with extinguishers that function properly.
Fire extinguishers are categorized alphabetically based on their agent or combination of agents. Class "A" is often filled with water, while others use various powdered chemicals. Each particular agent dictates the method of recharge, so know the types of fire extinguishers you have on hand by checking their labels.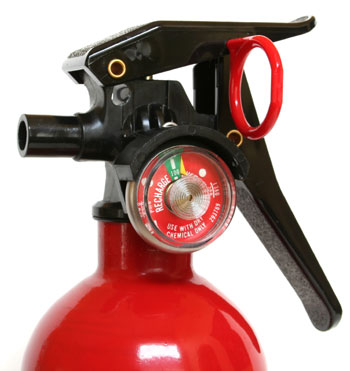 How to Recharge Fire Extinguishers
Recharging a fire extinguisher involves refilling it with the agent, or in some cases, emptying any remaining agent left in the unit and then refilling it.
If you have a number of extinguishers in your home or business, it may be cost effective to purchase a recharging unit. You will need the proper equipment, the agent, an air compressor and some basic training on how to recharge fire extinguishers.
Some find it easier to get a professional company to do the job. Companies have the necessary equipment, training and know how. Many offer a mobile service so that your home or office will not be without an extinguisher for any period of time. The charge is usually reasonable and the service is quick and efficient.
You can contact your local fire department to inquire as to whether they provide such a service. Some do it in-house, while others contract it out to dealers or manufacturers.
Whether you do it yourself or hire someone who knows how to recharge fire extinguishers, check that the pressure gauge reads properly when recharging is complete. The extinguisher will be refilled with the agent to a certain level and the remaining air inside will be pressurized. Make sure that the gauge reads around 100 to 175 psi, or extends in the specifically indicated zone (often a green zone for readiness).
Why and When to Recharge Fire Extinguishers
Once a fire extinguisher has been used (no matter how small the amount) it is important to have it recharged right away in order to keep it operational at all times and avoid potential tragedy.
It is also necessary to recharge fire extinguishers during routine inspections, which may involve expelling the agent to check the proper discharging mechanisms and pressure gauge readings. Any necessary repairs should be handled immediately, and the extinguisher recharged, ready for use.
You will need to recharge the fire extinguishers during your annual (or more frequent) maintenance schedule. Follow the recommendations and directions on the manufacturer's label. Don't skip this step. It is important to the operation of the unit, as well as to the effectiveness of the agent inside.
Fire extinguishers need to be completely discharged, cleaned, inspected and recharged after every use and on a regular basis. Learning how to recharge fire extinguishers is an important lesson to learn. Stay safe with effective, well maintained fire extinguishers.