This page is intended to provide individuals with general information pertaining to choosing a fire protection product.
Fire Extinguishers
Choosing the proper type of fire extinguisher is an important issue. Using the wrong type of fire extinguisher can be dangerous; in some cases, it can encourage a fire to spread!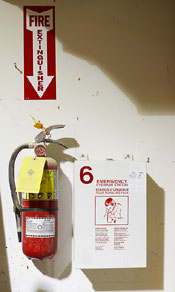 When choosing a fire extinguisher, consider the room for which you are purchasing it. In a kitchen, for example, a grease fire from cooking is likely to occur. Therefore, you would not want a water-based extinguisher, which would worsen the fire but a dry chemical extinguisher with ABC ratings.
If you have a room with delicate materials you wish to protect such as electronics, you may wish to opt for a CO2 extinguisher which won't leave a harmful residue.
Essentially, consider two things:
1) the material you wish to protect, and
2) the type of extinguishing agent that will be most effective at suppressing the possible type of fire caused by these materials.
Car Fire Extinguisher - As an essential part of every vehicle safety kit, a car fire extinguisher is a specialty product designed to do a specific job. Although your vehicle is assembled with optimum safety in mind, many of its components are potential fire hazards. Should you encounter a sudden and dangerous fire situation, having a fire extinguisher on hand will allow you to fight the blaze and deter excessive vehicle damage.
Carbon Monoxide Detectors
There are many carbon monoxide detectors to choose from. The American Lung Association recommends that you consider the following when choosing a carbon monoxide detector for your home:
Look for products recognized by reputable health and safety organizations.
Check that the product is listed under the Underwriter's Laboratories Amended Standard UL 2034, effective October 1, 1995.
Weigh the benefits of plug-in technology versus models powered by batteries that run out of power and need replacing.
Choose a device that can be immediately reset and self-tested to ensure proper functioning.
Select a detector that offers a complete five-year warranty on the sensor.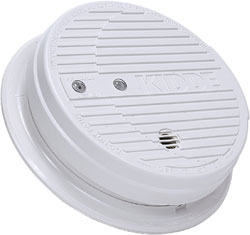 Smoke and Fire Alarms
Any type of alarm in your home will better your chances of surviving a fire than no alarm at all.
Consider the following when choosing a smoke or fire alarm:
When purchasing a smoke alarm, ensure yourself that it has been tested to the CAN/ULC S531-M standard by an approved testing agency.
There are two types of smoke alarms for home use. One type is called an Ionization alarm because it monitors "ions", electrically charged particles. Smoke particles entering the sensing chamber change the electrical balance of the air. The alarm is triggered when the change in electrical balance reaches a preset level.
The other type is called a photoelectric alarm because its sensing chamber uses a beam of light and a light sensor. Smoke particles entering the chamber change the amount of light that reaches the light sensor. The alarm is triggered when the smoke density reaches a preset level. Both types of smoke alarms are acceptable and perform effectively provided they are installed and maintained correctly.