This page provides information about class A fires.
In order to fight a fire effectively, you need to identify what is fueling the flames. By recognizing the class of fire, you can battle the flames in the most effective way. Class A fires are the most common type and burn ordinary combustibles.
There are different types of fire designation systems – the NFPA is used in the United States and Canada, while Europe uses the European Standard, and nations in Asia and Australia use another standard entirely. Class A fires have the same characteristics in both the North American and European standards.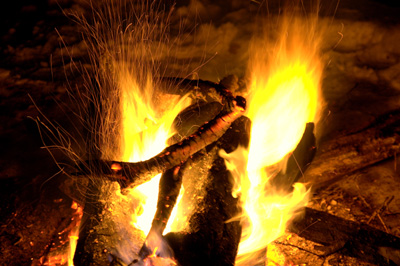 What Are Ordinary Combustibles?
Fires designated under class A are started when organic solid materials are heated up to the point of ignition. As long as fuel, heat, oxygen, and an extended chemical reaction is present (these elements combined are referred to as the fire tetrahedron), these types of fire will continue to burn. Typical fuels include:
Firewood – including kindling, logs and synthetic firewood products
Paper
Cloth
Products derived from oil, such as plastic, vinyl and rubber
Wood in any form – furniture, framing, flooring, etc.
In most cases, class A fires are lit in a controlled environment, such as in a wood stove or a campfire pit. They are usually not hazardous, since physical barriers are set and safety measures are taken to contain the flames. However, without proper precaution, these fires can spread quickly and present a serious danger.
Fighting Class A Fires
In order to fight or contain a fire that is burning ordinary combustibles, one of the essential components must be removed. Heat can be eliminated by dousing the flames with water, or the supply of oxygen can be prevented by smothering the fire with foam from a fire extinguisher.
In some cases, such as forest fires, the fuel is often physically removed in order to stop the fire from spreading. Some chemical fire extinguishers contain ammonium phosphate, which break down the chemical reaction necessary for this type of fire to burn.
Firefighting Equipment
Since this type of fire is common, firefighters usually carry the equipment needed to effectively battle the flames. Using hoses hooked to a substantial water supply is a typical method of attack, while foam and special chemicals can also be used to eliminate the oxygen or chemical reaction in the area.
Residential, industrial and commercial buildings should be equipped with proper fire extinguishers rated to fight class A fires. Safety standards also state that a source of running water (i.e. a hose or tap) must be within a certain distance of any backyard fire pits or recreational fire locations.
Burning Class A Fires
Although fires are generally lit for recreational purposes, they must always be handled in a responsible manner. Be sure that the site is properly prepared, and that non-combustibles surround the pit or stove. Most building codes require that certain conditions exist in and around your wood stove or wood burning fireplace, while many campgrounds and public parks have designated areas for campfires. Whether camping or enjoying a night in your own backyard, always follow the posted guidelines pertaining to fires.
Knowing how to recognize and fight class A fires will spur you to respond quickly and avert danger in the event of spreading flames. Good safety precautions, careful attention, and the right equipment to control a class A fire are essential.