This page is intended to provide individuals with general information pertaining to automatic fire extinguishers and fire sprinkler systems.
In the event of a fire, you cannot be everywhere at once; hence, an automatic fire extinguisher is an effective tool against flames, in many different situations. Used as part of an existing fire protection system, this equipment can also be an alternative to fire sprinkler systems, in cases where water damage would be costly. Today's modern technology makes automatic fire extinguishers reliable and a wise choice.
How Does It Work?
An automatic fire extinguisher system offers around the clock protection against fire. It does not need to be manned or monitored, although all fire extinguishers do need to be maintained regularly for optimum operation and safety.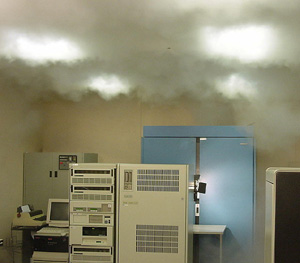 Image from Wikipedia
There are two main categories of automatic systems, but all share common characteristics that set them apart from traditional extinguishers and fire sprinkler systems.
Engineered systems are made for specific applications and situations; some examples include industrial computer clean room designs and those installed in boats, chemical storage facilities, and transformer vaults.
Pre-engineered systems are manufactured and packaged for general use with simple agents already installed; these units are used for common applications and are now appearing more and more in residential settings.
Both of the above systems will suppress a fire without the need for manual operation. Automatic systems function on a method of detection, a trigger for activation and an agent. Typically, the agents are either simple wet or dry chemical types (in pre-engineered systems) or formulated agents that can be stored as a liquid and expelled as a gas for safety and efficiency.
How Do Automatic Fire Extinguishers Differ from Fire Sprinkler Systems?
Sprinkler systems are widely used in industrial and public buildings across the globe. According to many local building codes, sprinklers must be installed in buildings that go beyond the access limitations of the fire department. Industrial and residential sprinklers have a pressurized water supply that is activated when the sprinkler heads are triggered, either by heat or smoke. They can be set up to go off as a whole, or individually.
When water is used as a fire suppression agent, it often causes substantial damage; thus, it is often deemed as destructive as the smoke or fire itself. If used to protect against the risk of fire in electrical rooms, where fragile materials are stored or in the presence of chemicals, water entails serious potential damage, whereas the automatic fire extinguisher system, using gas or dry chemical agents, is much better suited.
In the case of mobile set-ups (such as vehicles or temporary structures) a water source may be difficult to access, making the installation of a sprinkler system impossible. In order to properly protect those areas, an automatic dry chemical system is needed.
Dependable and Affordable
Reliability is a major priority in the design of a fire protection system, since they are often set-up in unsupervised areas. Not only does a system need to be efficient and dependable, but it must also be affordable. There are many pre-engineered brands and designs available at different costs, covering a wide variety of applications. When an engineered system is needed, the expertise of a qualified designer is well worth the investment.
Although they differ, both the automatic fire extinguisher and fire sprinkler systems serve the same purpose – to protect against the danger and damage of a spreading fire. A thorough evaluation will point out which system best meets your needs.