This article is intended to provide individuals with general information pertaining to protecting your home against fire with a fire sprinkler system.
You cherish your family and home and would do anything to guard them against tragedy. But are you neglecting an essential step in fire protection by not having a fire sprinkler system in your house?
You may wonder if a sprinkler system is necessary and effective, and how it works. You may be questioning its advantages over a fire extinguisher or smoke alarm. Is it a wise investment? Take a look at the basic facts concerning fire sprinklers and decide for yourself whether your family would be well served with a fire sprinkler system in your residence.
Active Protection
Fire sprinkler systems are designed to actively fight a fire without any effort required on your part. As soon as the system detects heat generated by flames, sprinkler heads will douse the entire area. Meanwhile, you can concentrate on getting yourself and your family out of the house while the system works to extinguish the fire. Click here to learn how to be prepared for a fire emergency.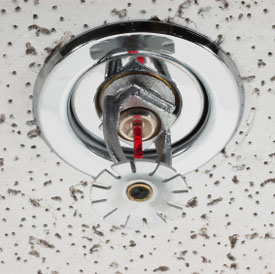 How Fire Sprinkler Systems Work
A sprinkler system stores water under a certain pressure within its pipe lines. When sensors inside the sprinkler heads are triggered by the presence of heat and flames, the water is immediately released and the area is drenched.
Each sprinkler head has either a bulb or metal link that shatters when exposed to heat, breaking a tiny pin designed to hold the pressurized water in the pipes. Subsequently, the water forcefully gushes out of the sprinkler head to battle the flames.
Major Advantages
Fire extinguishers are adequate for putting out relatively contained fires; however, you need to place yourself near the flames and in the path of potential danger. They also do not provide even coverage of the area as a fire sprinkler system can.
The water ejected from sprinkler heads causes significantly less damage than the pressurized water from the firemen's hoses. Sprinklers are activated almost instantly and may have extinguished the fire completely by the time the local fire department arrives. That is an important factor in the case of rural properties or remote locations where access to property is difficult and sometimes impossible for the firemen.
Your residence is protected when you are away from home. Activated smoke alarms will alert a monitoring company of fire, if you have paid your monthly fee, but again, time is a crucial factor. With fire sprinkler systems, the flames are doused automatically and your home and possessions are well-protected – even when you're out. Compared to smoke alarms which are often found to be faulty, sprinkler systems are reliable and easy to maintain.
Who Should Have One
Most apartments, businesses and public buildings are required to have a fire sprinkler system in place as a part of their safety procedures. Today, with the variety of cost options available, homeowners can equally enjoy the peace of mind that sprinklers can provide. Building codes specify the number of sprinkler heads required in a residence, including their placement for the best coverage.
If you have concerns regarding the distance between your home and the nearest fire station, or whether the fire department has easy access to your house, a fire sprinkler system will alleviate your worries. Moreover, if you have valuable possessions such as art or antique furniture, investing in a sprinkler system is the right thing to do.
Additional Benefit
Some insurance companies offer a sizable discount to homeowners who install a fire sprinkler system in their home. In the long run, those savings add up and will well-cover the cost of the system's installation.
Call a professional in the field to come and assess your home, show you the intended layout of the sprinkler system, give you an estimate, and answer all your questions. In general, the installation procedure takes a relatively short period of time. Thereafter, you can rest assured that you have provided another level of security for your loved ones and your precious home.
Written by John Manley
Having experienced 2 house fires, John Manley now devotes some of his spare time educating people about the importance of having fire extinguishers, CO and fire alarms, and proper escape plans though the website: Fire Extinguisher: 101 - www.fire-extinguisher101.com.