This article is intended to provide individuals with general information pertaining to wildfire protection and preparation measures to help protect yourself and your home in the event of a wildfire.
With global warming causing uncommon high temperatures and abnormal dryness, we are experiencing unusual environmental phenomena. It seems like there are more tornadoes, hurricanes, mudslides and floods than in the past. Summer temperatures are breaking heat records, resulting in dry forests that offer perfect conditions for wildfires.
In the news, we hear of raging fires devastating larger and larger tracts of forests and land; in some tragic cases, they cause the destruction of entire neighbourhoods. Taking steps towards attaining wildfire protection is becoming increasingly more important today in order to protect yourself from losing your home and possessions.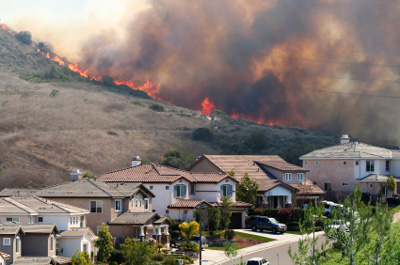 Preparation for Battle
There are viable steps you can consider to protect your property against wildfires. Take action early – do not wait to be surprised. When the fire is raging, you cannot get close enough to work on the situation, and panic sets in. The only real chance you have against a wildfire is to take prior action. Below are some guidelines.
Water your Property - Soak your land occasionally so as to reduce the aridity, thereby reducing the chances for ignition. Decrease the sun's heat on your lawn by creating shade.
Create a Defensible Space - In order for fire to burn, it needs fuel. Create a safe perimeter around your house by clearing combustible materials – the width should be between 30 to 200 feet from the house. Rake your property often to remove twigs, leaves, and dead plants. This material is fast-consumed by fire. Walk around your property and assess the topography. The wider the clearing, the fewer combustible debris around your house, the greater the chance you have of protecting your home from a sweeping wildfire. Homeowners with houses surrounded by thick vegetation should clear as much as 100 feet, and those with houses on slopes should clear as much as 200 feet.
Design a Tactical Landscape - Incorporate fire resistant plants in your yard. Not only will they cut down on the amount of mowing you have to do (for those who hate yard work) but they will also slow down the fire's progress. By establishing a "greenbelt" of plants around your property, you introduce a fire barrier. Plants such as the California Redbud, the Monkeyflower, Sage and Common Yarrow are standard fire-resistant shrubs.
Trees like the Coast Live Oak and the California Sycamore are good choices for fire-resistant trees. Space your greenery as to create gaps – it makes it more difficult for the blaze to travel. Plant shrubs in 10 foot increments, and form larger gaps of 20 foot or more for trees. Prune the bushes near your house to ensure that they do not become access routes for fire.
Introduce rock, brick and concrete pathways into your lawn. Add bare soil into your landscaping pattern, as well as fir or redwood bark chips to create an artistic design. These materials prove harder to ignite and will augment your wildfire protection.
Inspect your Roof - If the air-borne embers that wildfires produce end up on your roof, they can penetrate into inner roof cavities. The inner roof cavities of houses in warm climates are not usually airtight compartments. Embers can be pushed into the house by the heavy winds generated by a bushfire.
Clean your gutters from dry leaves and debris, and install steel gutter guards over the gutters. Check your attic for light infiltration which would indicate a hole in the roof. Plug any gaps with fire rated gap filler. A spray fire retardant can be purchased to coat insulation material to prevent ignition. Cover all roof mounted air conditioning units with a fire retardant cover.
Check Glass Windows and Doors - Fire gains access into your house through glass windows and doors, and through the seals around them. Permanent protective screens are available, as well as shutters and external blinds.
Preparation is the Only Key
If you wake up one morning and find yourself in the line of a bushfire, it is too late for preparation. So the time for wildfire protection is now! Hopefully, you will find these tips useful in attaining wildfire protection.
Written by John Manley
Having experienced 2 house fires, John Manley now devotes some of his spare time educating people about the importance of having fire extinguishers, CO and fire alarms, and proper escape plans though the website: Fire Extinguisher: 101 - www.fire-extinguisher101.com.