This article is intended to provide individuals with general information pertaining to filing fire insurance claims.
Tragedy has struck you and your family in an indescribable way. You have lost your home to a fire. What do you do now? Where do you go? Do not panic! Your fire insurance claim is one of the many ways you can get help. When you file that claim though, be informed. The following guidelines will help you in the event of a house fire; better still, prepare yourself before disaster strikes.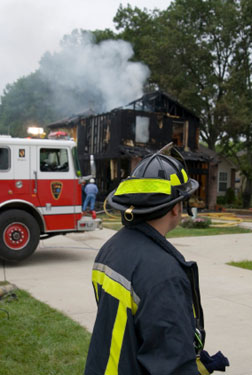 1. Know your coverage – Many people feel that their insurance company may have "pulled a fast one" on them when their claim is denied. A simple way to avoid this is to know your coverage. Get out that brochure that your insurance agent gave you when you signed your contract. Cannot find it? Call your insurance company and ask them to send you another one, and read it from beginning to end.
2. Know the amount of your deductible – When you sign a contract with your insurance company, you agree to a deductible, a basic amount to be deducted from the amount claimed. Example: If your damages total $4000 and your deductible is $500, the insurance company will give you $3500 and you will have to absorb the remaining $500.
3. Request it all in writing – Make sure you receive any and all estimates of damage or destruction in writing. This provides you with proof of damage when it comes time to file the fire insurance claim. Also be sure to request written estimates of repairs and/or replacement as well.
4. Sign nothing yet! – Before you sign anything, ask lots of questions, inform yourself, read the small print, and fully understand the document to be signed. You do not have to blindly accept the insurance company's assessment of damage - get your own estimates in order to compare them with the insurance company's estimates.
5. Gather all necessary information – Confirm with your insurance company the requirements for filing a fire insurance claim. Below is the standard necessary information needed:
Date of loss
Type of claim (loss)
Location of damage
Detailed list of any injuries incurred
Full condition of home
Complete list of all damages
All estimates for repair or replacement
Police report
6. Keep everything - In order for your claim to be processed as smoothly as possible, call the insurance company as soon as possible, and keep all documents relating to the incident, no matter how insignificant they may seem. Do not get rid of anything until the insurance company has sent a representative to assess the damage.
Many insurance companies will pay for temporary housing should your home be so damaged that you cannot live in it. Call them, or refer to your documentation to find out whether this is a possible provision in your case.
Written by John Manley
Having experienced 2 house fires, John Manley now devotes some of his spare time educating people about the importance of having fire extinguishers, CO and fire alarms, and proper escape plans though the website: Fire Extinguisher: 101 - www.fire-extinguisher101.com.